Natha Loka, Kemetug Eco Village is a unique holistic residence and retreat which aims to raise the bar to the next level for eco-resorts, sustainability, and social responsibility.
Located around 450 metres above sea level in the hills of Gunung Salak in Tabanan, Bali, this beautiful part of the Island of the Gods is less than an hour north of Tanah Lot and is renowned for its expansive mountain and volcano views as well as fabulous rice fields, which are fed by the UNESCO-recognised Subak System, a traditional Balinese irrigation and farming practice that has sustained the island's agriculture for centuries.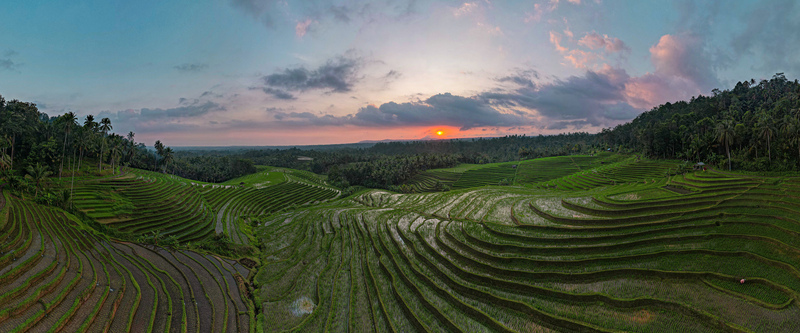 "Natha Loka" is a Sanskrit term that can be translated to mean "abode of the lord" or "dwelling place of the divine". It refers to a sacred or heavenly location, often associated with having spiritual or religious significance. The exact interpretation can vary depending on the context in which it is used, but it generally conveys a sense of a place where the divine or a revered deity resides – heaven perhaps.
It's here that Seven Stones Indonesia is developing an exceptional experience for those looking to live more consciously in a Balinese village environment, without compromising comfort and luxury. The project will feature one- two- and three-bedroom villas set on land plots from 1,000 to 2,000 square metres in size, as well as access to a range of on-site amenities including a spa, a fitness centre, food and beverage outlets and a functional or holistic health clinic, all of which seamlessly integrate into the local community and its natural surroundings.
Building a Harmonious Community
The aim is to nurture mind, body, and spirit to create a harmonious community that lives in sync with nature and respects and uplifts both the land and its people without causing disruption. There is great respect for the area's rich cultural and spiritual heritage and through guided tours and local classes, you'll be able to share the deep spirituality and essence of the area and its people.
Terje H. Nilsen, CEO and Director of Natha Loka explains that he has always wanted to create "a true Balinese feeling in a development. Not just through words, culture and spirituality but also through the land. That's why we strive to keep all the land as it is and have our units blend into the hill to be a part of the Balinese permaculture it is based within. Living with the locals, sharing with the locals. Living life. This is a place where your land will take care of you; take care of you spiritually, with a total of 11 holy water sites and blessing spots; take care of you emotionally with amazing views that will blow you away. Physically, the land will nurture you and feed you because everything growing around you can be harvested and is all organically grown and watered through the pristine and absolutely clean waters coming from Mount Batu Karu and through the village."
Tri Hita Karana
A recent article posted by Antara News looked at the growth and impact of Bali's tourism industry and the efforts to restore balance through the philosophy of "Tri Hita Karana", which means "three causes of well-being" or "three reasons for prosperity," that are connected with balance and harmony; with God, people and the environment.
Chair of the Alliance of Bali Marginal Tourism Actors, I Wayan Puspa Negara, has said that tourism in Bali has prioritised the balance of nature based on Tri Hita Karana. Because of this, he said, tourism practices in Bali cannot be separated from the Tri Hita Karana philosophy, as it is what makes it sustainable.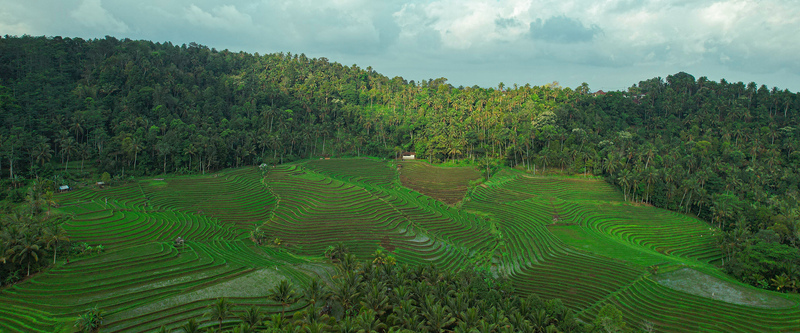 Natha Loka, Kemetug Eco Village is at the back of the Kemetug Banjar and blends fully with the local community; it's a place to relax and appreciate serenity while surrounded by nature's beauty and a communal spirit that fosters this concept of Tri Hita Karana. It's more than a property investment; it is an acknowledgement of Bali's unique cultural heritage and belief that we are intrinsically connected, not only to each other but to the world around us.
Win-Win-Win
The climate for foreign investments in Indonesia is getting easier; systems are more transparent; procedures have been improved; and the time things take, arguably the most important aspect for any business owner, has been greatly reduced. Seven Stones Indonesia encourages you to invest in Indonesia, especially in long-term sustainable initiatives that not only respect but also nurture Bali's unique culture, which in turn improves the quality of Bali's tourism industry – something central and local governments are keen to push forward.
Whether you see Natha Loka as a primary home or a secondary residence, the benefits of investing in the area are nothing but positive and include 30-year leasehold ownership which is transferable, flexible payment options, a passive income from short-term rentals and the knowledge that you will be part of a unique project that supports Balinese construction, management and permaculture and is in tune with Tri Hita Karana and looks set to take sustainability and eco-resorts to the next level.
If you'd like more information or want to visit the Natha Loka, Kemetug Eco Village, get in touch with us via hello@sevenstonesindonesia.com.
Source: Indonesiaexpat.id