Bali, often called the "Island of the Gods," isn't just a stunning vacation spot but also an attractive place for real estate investment. Known for its natural beauty and welcoming culture, Bali offers a unique opportunity to own property in a paradise-like setting. In this article, we'll explore some of Bali's hidden gems – the best places to invest in real estate – and share some helpful tips for making a successful investment.
Investing in Bali Real Estate
Investing in real estate in Bali has become increasingly popular among international buyers. The island's growing tourism industry and relaxed visa rules make it an appealing destination for those looking for a second home or a vacation rental property. Bali's steady stream of tourists provides a reliable market for property investors, making it a potentially lucrative opportunity.
Top Areas to Consider
Bali has many unique neighborhoods, each with its own appeal. Here are some of the most popular places to think about when buying property on the island:
Canggu
Canggu, located on Bali's southwestern coast, has become a trendy and desirable destination. It's known for its relaxed vibe, great surf spots, and a thriving community of expats. Canggu offers a mix of tranquility and excitement.
Stunning Villa in Pererenan
Situated on a generous 600m2 plot, this inviting 230m2 villa is strategically located, only a short 6-minute bike ride from the beach. Embrace the essence of comfortable living and discover unparalleled tranquility.
Key Features:
Master Bedroom with en-suite bathroom and bathtub
King-size Bedroom with en-suite bathroom
Office Space
Guest Toilet
Living Spaces:
Spacious indoor/outdoor living area
Fully-equipped kitchen with a blender, oven, and elegant tableware
Outdoor Amenities:
Large swimming pool
Outdoor fire pit
CCTV for security
Convenient Extras:
Parking space for cars and motorbikes
Prime Location:
Explore stylish restaurants in Pererenan
2 minutes to Jungle Padel
3 minutes to Pepito/Frestive supermarket
La Brisa, Bali's famed beach destination, is a quick 10-minute drive away.
This villa is a perfect blend of style and convenience.
This villa is offered with 24-year lease for IDR 6,530 Bill (approx USD 420.000)
Monthly rental IDR 57,000,000
Find out More
Charming Off-Plan Villa Located In The Peaceful Surroundings Of Batu Belig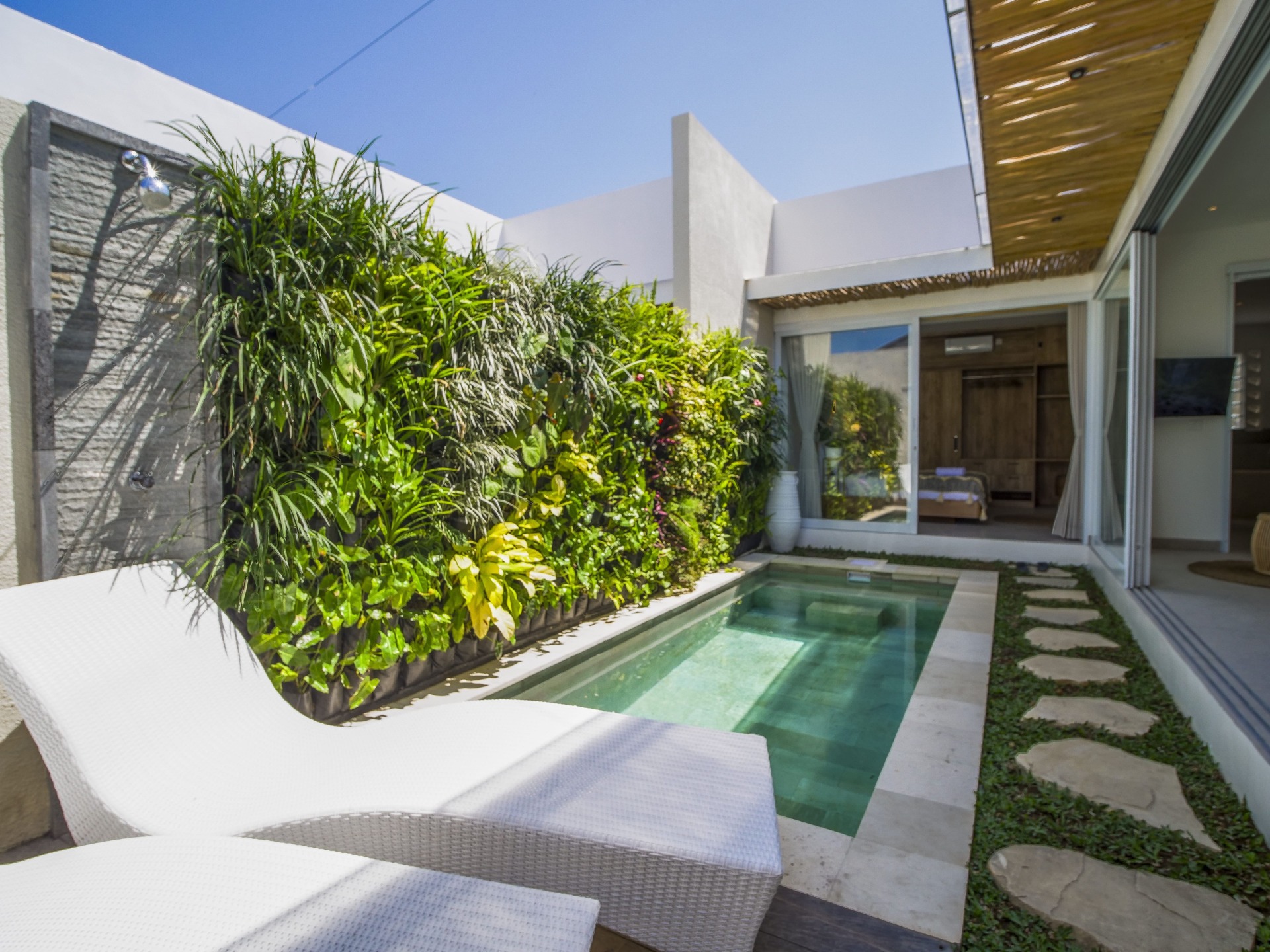 Welcome to this charming off-plan villa located in the peaceful surroundings of Batu Belig. With 2 bedrooms and 2 bathrooms, this villa offers a cozy and comfortable living space for you to enjoy. The land size is 80 sqm, while the building size is 40 sqm, providing ample space for your needs.
This villa is available for a 25-year leasehold, with an additional 10 years optional. Priced at approximately 2 Billion rupiah or USD 133,000 it offers great value for money.
Conveniently situated only 7 minutes away from various restaurants, beach clubs, stunning beaches, and vibrant bars, this villa's location is ideal for both residents and Airbnb hosts. Whether you're looking for a peaceful retreat or a bustling nightlife, this villa caters to all your desires.
Don't miss the opportunity to own this off-plan villa in Batu Belig. Contact us now to arrange a viewing and make this your dream home or a lucrative investment for your Airbnb business.
Find out More
Seminyak
Seminyak is Bali's upscale beach resort area, known for its luxurious villas, high-end shopping, and top-notch dining options. If you want a cosmopolitan lifestyle with easy beach access, Seminyak is the place to be.
Beautiful 3-Bedroom Villa in Seminyak
This outstanding 3-bedroom family home combines the charm of coastal living with cutting-edge technology sits on 350-square metres of leasehold land in Seminyak, just a few moments away from Seminyak beach.
As you step inside, you'll notice the villa's immaculate design and high end finishes, where every detail has been carefully considered.
The kitchen is in an American modern style kitchen and there's a large pool surrounded by well-maintained gardens. The main bedroom has sliding doors that lead to both the walk-in wardrobe and an ensuite bathroom.
Don't miss your chance to own this beautiful home in Seminyak where luxury living meets the environmental consciousness and where every day feels like a dream come true.
The property is being offered with a leasehold title for 30-years and is priced at IDR 5.6-billion.
Please get in touch with us for more information and to view this property
Find out More
2-Bedroom Villa Walking Distance To Double Six Beach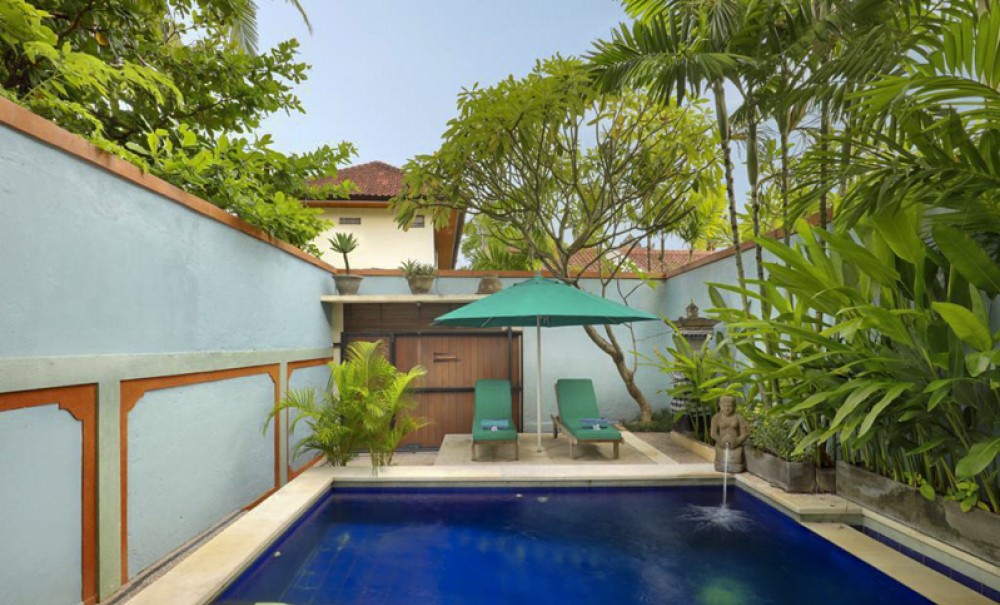 This 2-level, 2-bedroom tropical-style villa sits on 139-square metres of freehold land in Seminyak and walking distance to Double Six Beach.
The villa offers an exclusive and private living experience and is large enough to enjoy comfort and luxury. There are two comfortable bedrooms, each equipped with an ensuite bathroom, a fully-equipped kitchen, a semi-open living area and a private swimming pool – definitely one of the villa's main attractions. There's also a spacious dining area so you can enjoy meals in a cozy atmosphere.
If you'd like more information or want to see the villa, get in touch with us today.
Find out More
Ubud
Ubud, in Bali's lush interior, is a haven for nature lovers and those seeking cultural experiences. You'll find serene rice terraces, a vibrant art scene, and opportunities for yoga retreats. Ubud offers a peaceful escape from the bustling coastal areas.
A Private Luxurious 4 Bedroom Villa with a Magnificent View of Ubud
Nestled in Ubud, this opulent private villa embraces a harmonious connection between its occupants and the natural surroundings. Crafted to embody Bali's tropical essence, the villa boasts an expansive tropical garden adorned with local fruit and flower trees, shrubs, ponds, and meandering streams. It comprises two distinct compounds housing a total of four bedrooms. The villa features two infinity swimming pools, a gym, a yoga bale, and two dining and kitchen areas.
Set upon an expansive 8690 sqm plot of land with a generous 741 sqm building size, the property seamlessly integrates with nature. All structures, windows, and verandas are thoughtfully oriented to face the east, inviting the warmth of the morning sun to embrace its inhabitants. From this vantage point, one can relish views of rice terraces, valleys, and the vibrant tropical jungle that graces the eastern side of this enchanting villa
Getting into the rooms, Villa has a lot to offer than mere comfort. Each room is thoughtfully designed to have the uniqueness of each region in Bali e.g. Kelungkung, Ubud, Tenganan, and Singaraja. The owners did not just give the names without also thinking of how to completely bring the atmosphere of each region into the rooms. They do bring all the beauty and comfort of each region into the rooms.
All furniture, decorations, and other small details show and vibrate the energy, beauty, and colors in each of those regions. It makes this Ubud villa one of those you need to consider when having your vacation in Ubud, Bali. Villa truly exudes an extraordinary charm of luxury and elegant living.
This property is offered with a freehold title at IDR 38 billion.
For further details, please do not hesitate to contact us
Find out More
3-Bedroom Resort-Style Villa in the Damara Village Ubud
This 3-bedroom villa is part of the Damara Village resort-style cluster, boasting a serenity that allows residents to enjoy life in both comfort and luxury, while being close to Bali's idyllic nature.
Uniquely located in front of the park, this unit offers a chic and spacious design with a plunge pool and open plan living on the ground floor. While all three bedrooms are located on the upper level.
The residents will be provided with a range of facilities, from gym, swimming pool, yoga park, to shops, restaurants and amphitheater. All curated for a convenient and leisurely lifestyle.
It is ideally located just 10 minutes to Ubud Art Center and 25 minutes to Green School, making it a suitable home where families can grow. The residents will also have an option to rent out their units through the rental service management.
This villa is being offered with a freehold title and will be ready in January 2024.
Find out More
Jimbaran
Jimbaran, on Bali's southwestern tip, is famous for its pristine beaches and seafood restaurants. This area is ideal for those seeking a quieter, family-friendly atmosphere with stunning ocean views.
Freehold Land In Peaceful Residential Area Taman Jimbaran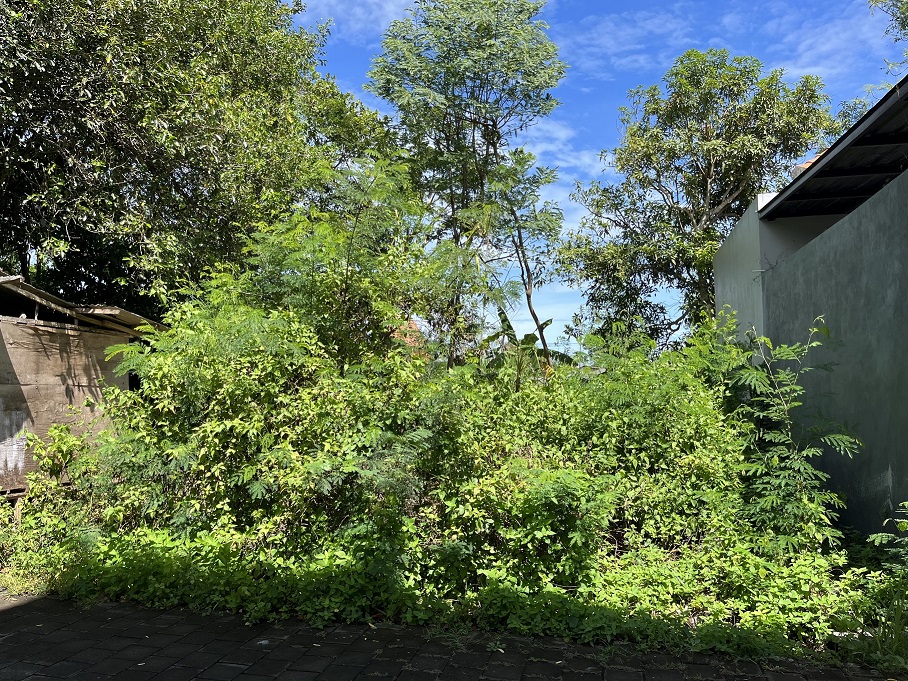 This is a rare opportunity to own a piece of paradise in Taman Jimbaran, one of Bali's most desirable residential areas. We are offering three plots of beautiful freehold land, each with its own unique charm and size. The plots are 100 sqm, 145 sqm, and 145 sqm respectively, giving you a range of options to choose from.
Located in a peaceful and serene environment, surrounded by lush greenery, these plots of land offer the perfect escape from the hustle and bustle of city life. The gentle breeze and stunning natural beauty of the area create an ideal environment for building a dream home that you can enjoy for years to come.
At a price of Rp. 600,000,000 are, these plots offer exceptional value for money, considering the prime location and the potential for appreciation in value over time. You can choose the plot size that best suits your needs and budget, and begin the process of building your dream home in this highly sought-after neighborhood.
Taman Jimbaran is a prestigious neighborhood known for its luxurious homes, stunning beaches, and world-class restaurants. With easy access to all the amenities and attractions of Bali, this is the perfect location for those seeking a tranquil and upscale lifestyle.
Don't miss this once-in-a-lifetime opportunity to own a piece of paradise in Taman Jimbaran. Contact us today to arrange a viewing and start planning your dream home.
5 minutes to Nusa Dua Beach
5 minutes to Geger beach Nusa Dua
10 minutes to International Airport
10 minutes to Melasti beach
10 minutes to Pandawa beach
Find out More
Stunning Villa With Fabulous Views In Jimbaran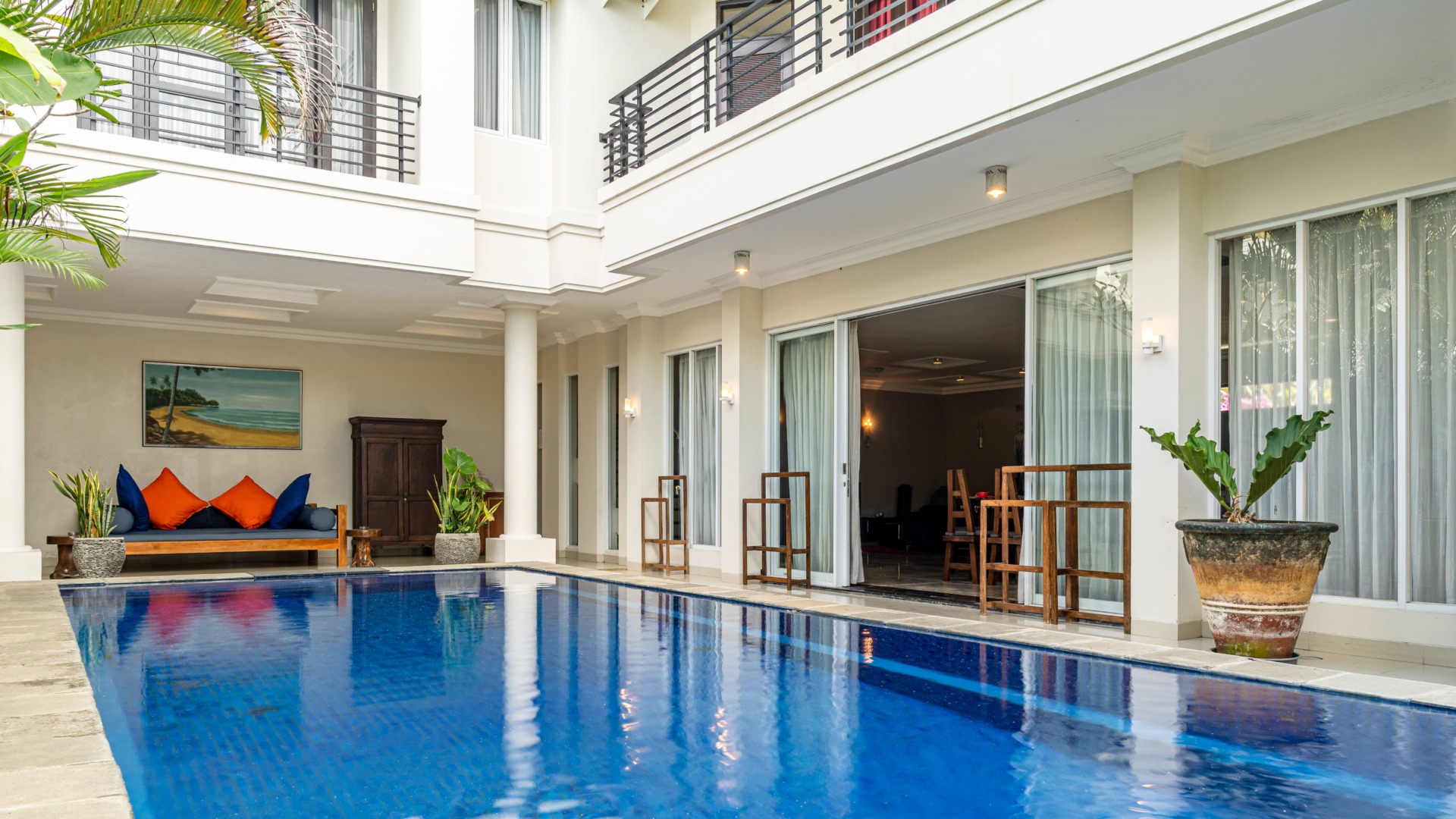 This magnificent 4-bedroom freehold villa sits on 360-square metres of freehold land in Jimbaran and presents an incredible opportunity to own a luxurious property in one of Bali's most sought-after locations.
There's plenty of space to relax and entertain and high ceilings add a touch of grandeur to the living spaces, creating an airy and inviting atmosphere.
All four spacious bedrooms have ensuite bathrooms and there's an additional guest toilet.
One of the best features of this property is the panoramic view over Jimbaran Bay, the majestic Mount Agung, and the Nusa Dua area. It's also a short walk to Jimbaran Beach.
Whether you're seeking a permanent residence or a holiday retreat, this property guarantees a seamless blend of tranquillity and convenience.
Don't miss out on this exceptional opportunity to own a piece of paradise in Jimbaran, so if you'd like more information, or want to see the property get in touch with us today.
Find out More
Uluwatu
Uluwatu, perched on the cliffs overlooking the Indian Ocean, is a paradise for surfers. Here, you'll find breathtaking views, world-class surf spots, and a more secluded atmosphere compared to other tourist spots.
Industrial Loft Style Apartment in Uluwatu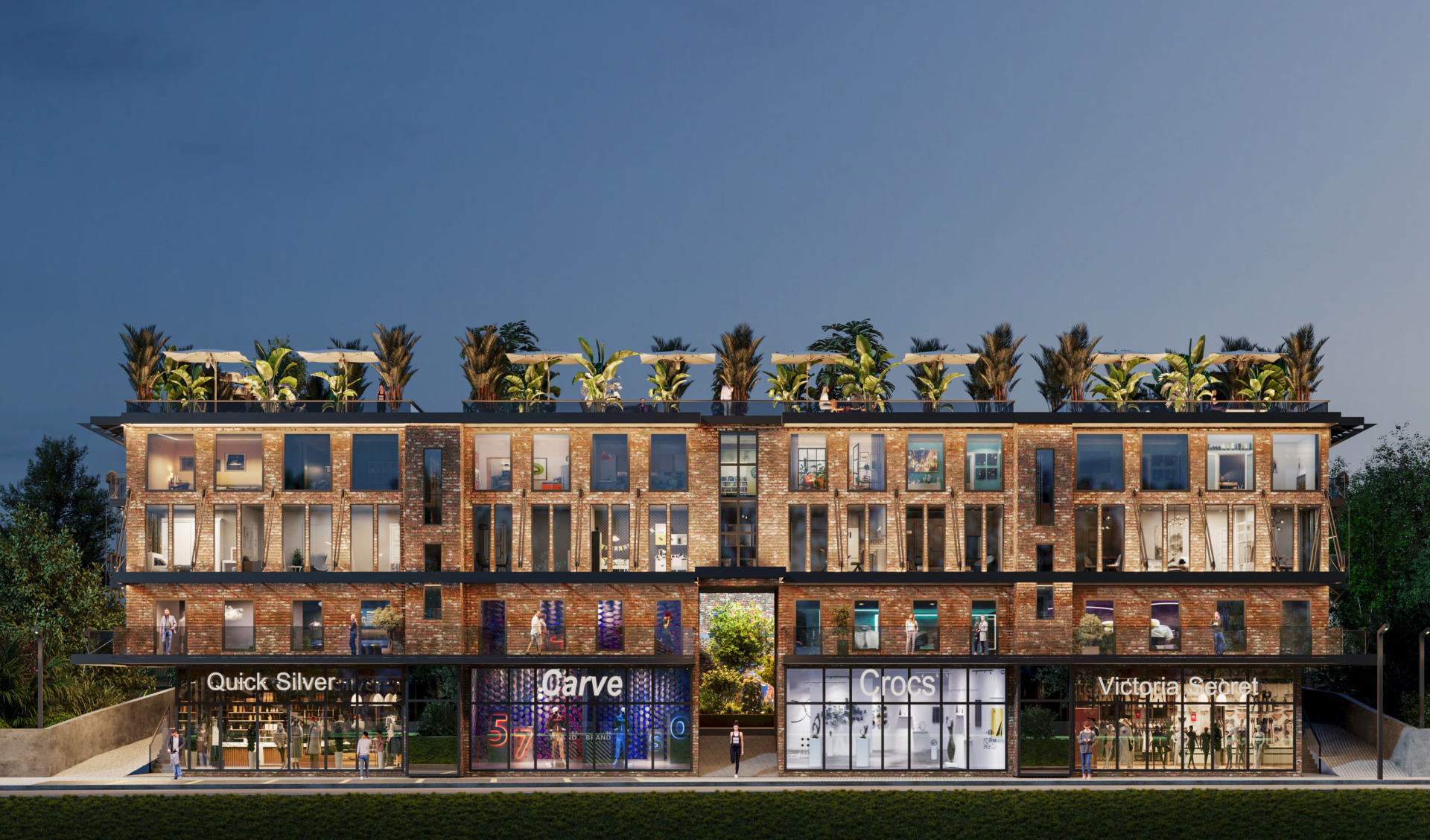 Design your own style and design! This is the First apartment that offers more than 6 different interior design styles and finishes.
This apartment is built on 2000 square meters of land, with a total of 57 units, 4 floor building. All units come with a 10 Years Construction Guarantee plus 1 year for everything.
Each building has no connecting walls with the neighboring. The floor area varies from 60 to 80 m2, 1-3 bedrooms. The buildings are arranged around the perimeter of the site and look out onto a patio. On each floor it is possible to arrange from 1 to 2 apartments, depending on the wishes of the client and the size of the building. 
All included with:
Parking lots for cars and bikes
Tropical pool in the center of the complex
Outdoor gym
Co-working
Boutiques
Conference hall
Cafes and restaurants
Store with usual European food
Relaxation area on the rooftop in each
Building
Offered for a leasehold title until 12-07-2053 with price starting at IDR 1,080,000,000 / USD 69,990
Find out More
Two Units Ocean and Mountain View Villa in Bingin Hill Uluwatu Bali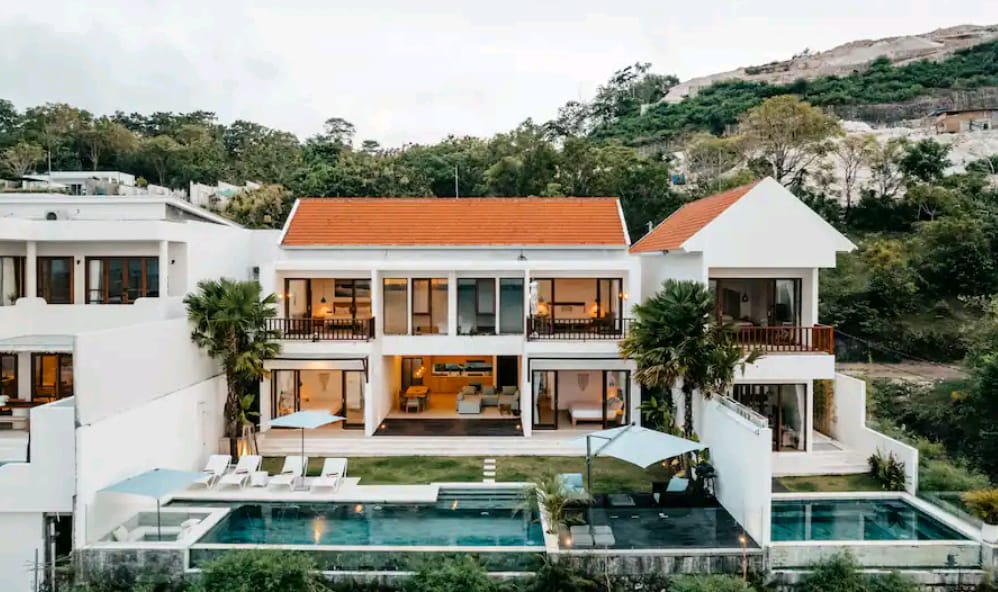 Welcome to your future home!
2 Units villa is available for sale, located in the most searched area in Uluwatu Bali, Bingin Hill.
This villa is offered for sale both or separately.
First villa is built on 500 sqm of land, 2 floors building and comes with 4 bedrooms with ensuite bathroom, 1 guest toilet, living room, fully equipped kitchen and Infinity pool.
Second Villa is built on 100 sqm of land, 2 floors and comes with 1 bedroom with ensuite bathroom, another room can be converted to another bedroom, 1 guest toilet, living room, fully equipped kitchen and Infinity pool.
Offered for a leasehold title until 12-09-2045 at the price:
Both: IDR 13,500,000,000 (Approx 800,000 EUR)
Villa 1: IDR 10,550,000,000 (Approx 625,000 EUR)
Villa 2: IDR 4,300,000,00 (Approx 255,000 EUR)
Find out More
Sanur
Sanur, on the east coast of Bali, offers a laid-back beach town vibe and a thriving expat community. Its calm waters and sandy shores make it an excellent choice for families and retirees.
Enchanting 3-Bedroom Villa in Sanur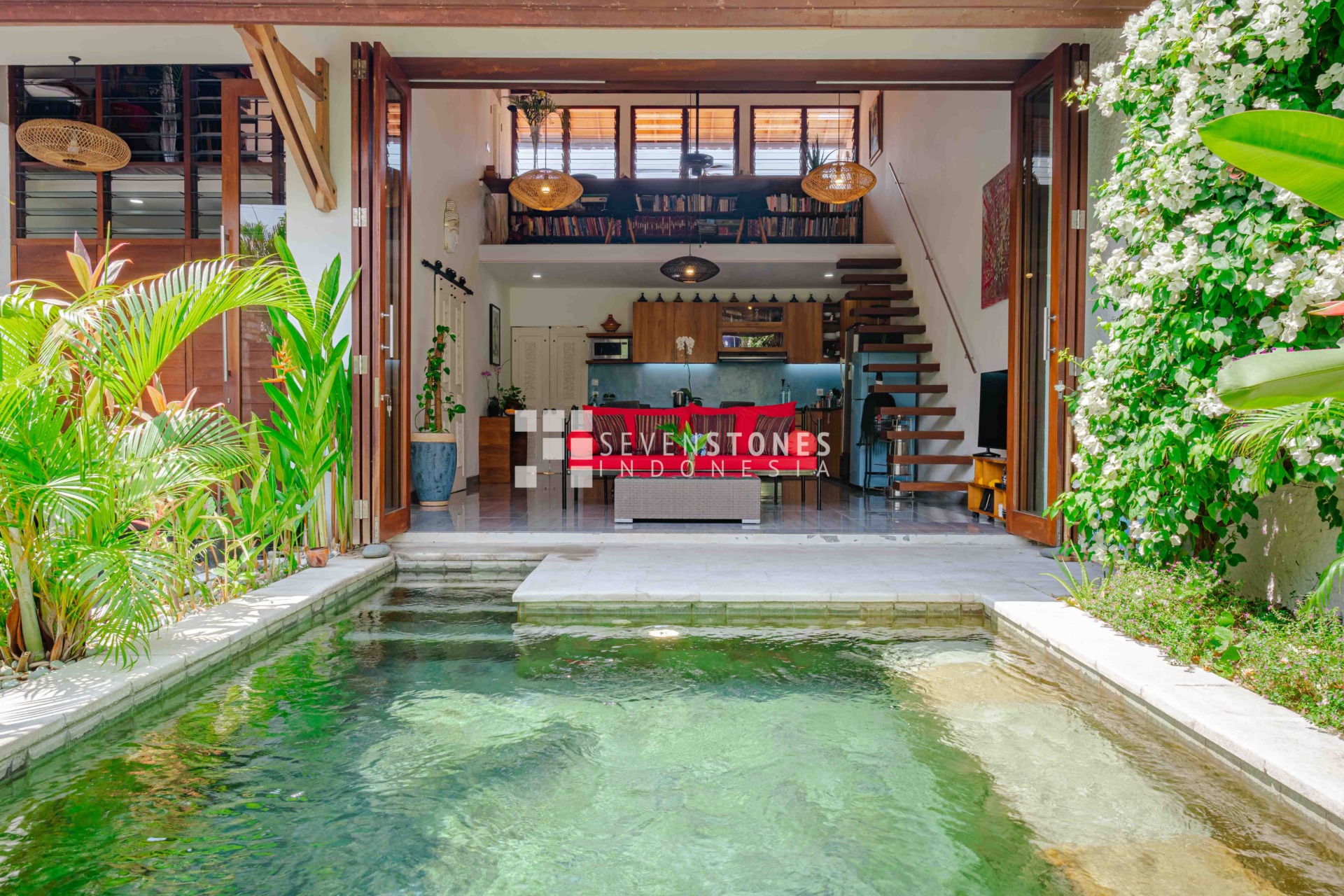 Built in 2010, this 3-bedroom villa was renovated in 2020 and sits on 175-square metres of leasehold land in Sanur. The owner, who is an architect, designed the vaulted ceiling with a touch of Balinese traditional architecture while at the same time providing ample natural lighting and air circulation around the house as well as a spacious and luxurious feel.
You'll also find a well-established tropical garden surrounding the pool and the backyard.
Two bedrooms with ensuite bathrooms are on the ground floor and both face the backyard with a Zen-like garden. While up in the mezzanine is another bedroom with an ensuite bathroom, and a study area overlooking the entire house.
This villa is perfect for those seeking a peaceful place to live and is being offered with a leasehold title until 2045 with an option to extend.
Get in touch with us today if you'd like more information.
Find out More
Guesthouse Investment Opportunity in Sanur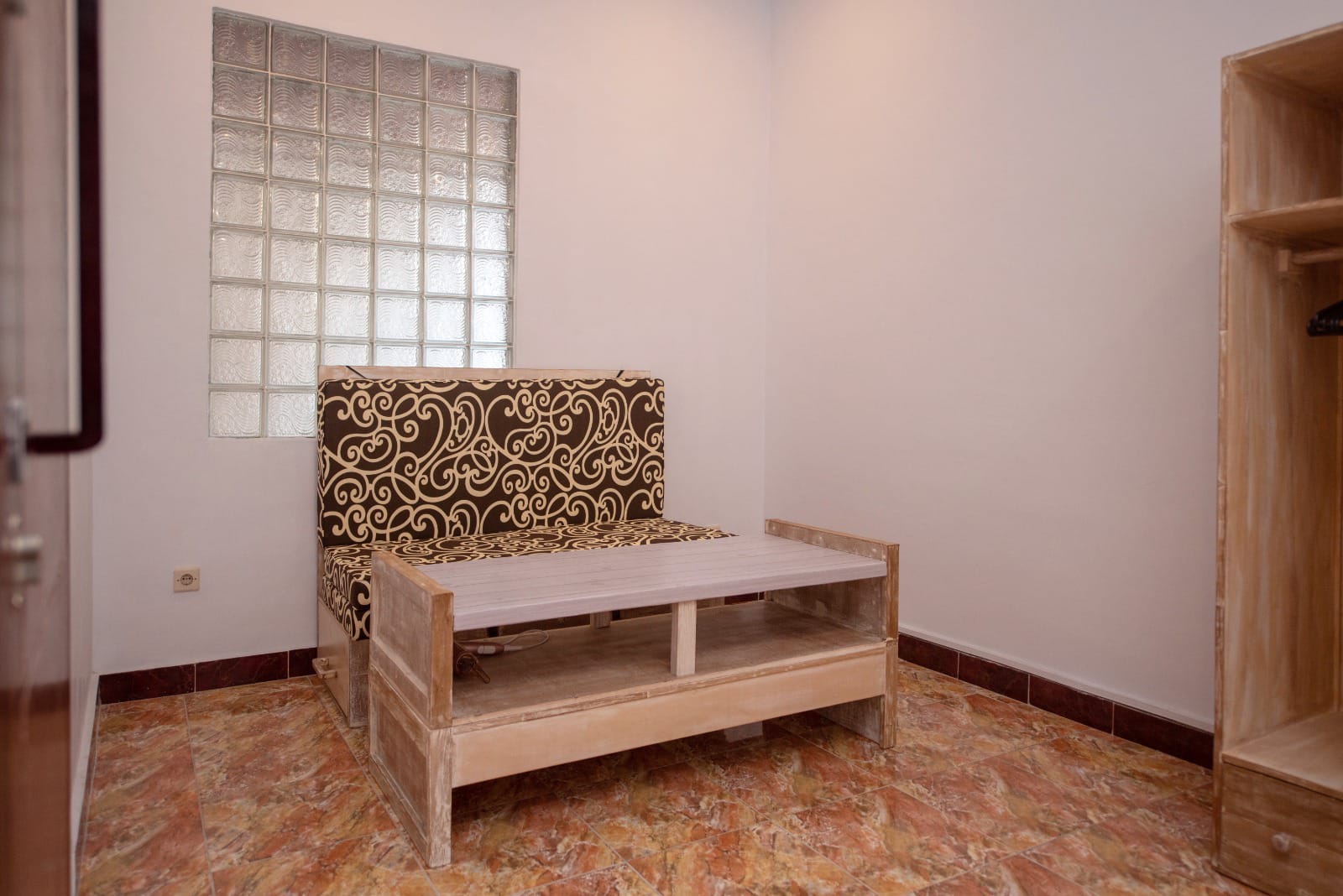 This beautiful leasehold Guesthouse/ Homestay/ Apartment in the heart of Sanur is around 100 meters walking distance to Sindhu beach and is close to shops, restaurants and a 5- Star hotel and is in a traditional Hindu compound, formally owned by Royalty.
All units are newly decorated and fully furnished with handmade furniture and floors are high-quality tiles throughout. All rooms have air conditioners and ceiling or wall-mounted fans.
There's metered electricity, local authority water supply (PDAM), and Wi-Fi.
The sale includes a remainder of a freehold term and business goodwill plus furnishings, fixtures and fittings.
Guest accommodations comprises 5 accommodations plus an external area as follows:.
1-apartment with 2-bedrooms, a bathroom, a vanity room, and a kitchen
3-premier double rooms with ensuite bathrooms, a,vanity room and a terrace
1-standard double room with ensuite bathroom and a vanity room
A communal Al Fresco luxury kitchen and dining terrace
Open terrace lounge areas
Small decorative garden
Free use of off road parking
The property is being offered with a leasehold title until June 2032 for IDR 3.5-billion (approx. USD 242k)
Please get in touch with us for more information and to view this property.
Find out More
Nusa Dua
Nusa Dua, in the southern part of Bali, is known for its luxurious resorts, pristine beaches, and upscale living. It's a top choice for those seeking a high-end lifestyle on the island.
Freehold Ocean View Land in Prime Location of Nusa Dua
Embrace the pinnacle of coastal living with this exceptional 1700 sqm freehold land offering in Nusa Dua. This extraordinary property commands an unblocked panorama of the shimmering ocean, making it a dream location for your next venture.
Located in the heart of Nusa Dua, this land benefits from a prime and sought-after position, ensuring easy access to the area's finest amenities, world-class resorts, and pristine beaches. The private access to this land adds an exclusive touch to your ownership, providing you with an idyllic escape from the everyday hustle and bustle.
Whether you envision building your dream home, a luxury villa, or a profitable investment property, this expansive land parcel offers the canvas to turn your visions into reality. With 1700 sqm at your disposal, your options are limitless.
What's more, the price is negotiable, allowing you the flexibility to seize this incredible opportunity on terms that suit you. Don't let this chance slip away – contact us today to explore the potential of this stunning freehold land with awe-inspiring ocean views in Nusa Dua.
Find out More
5-Star Ocean-View Villa For Sale in Nusa Dua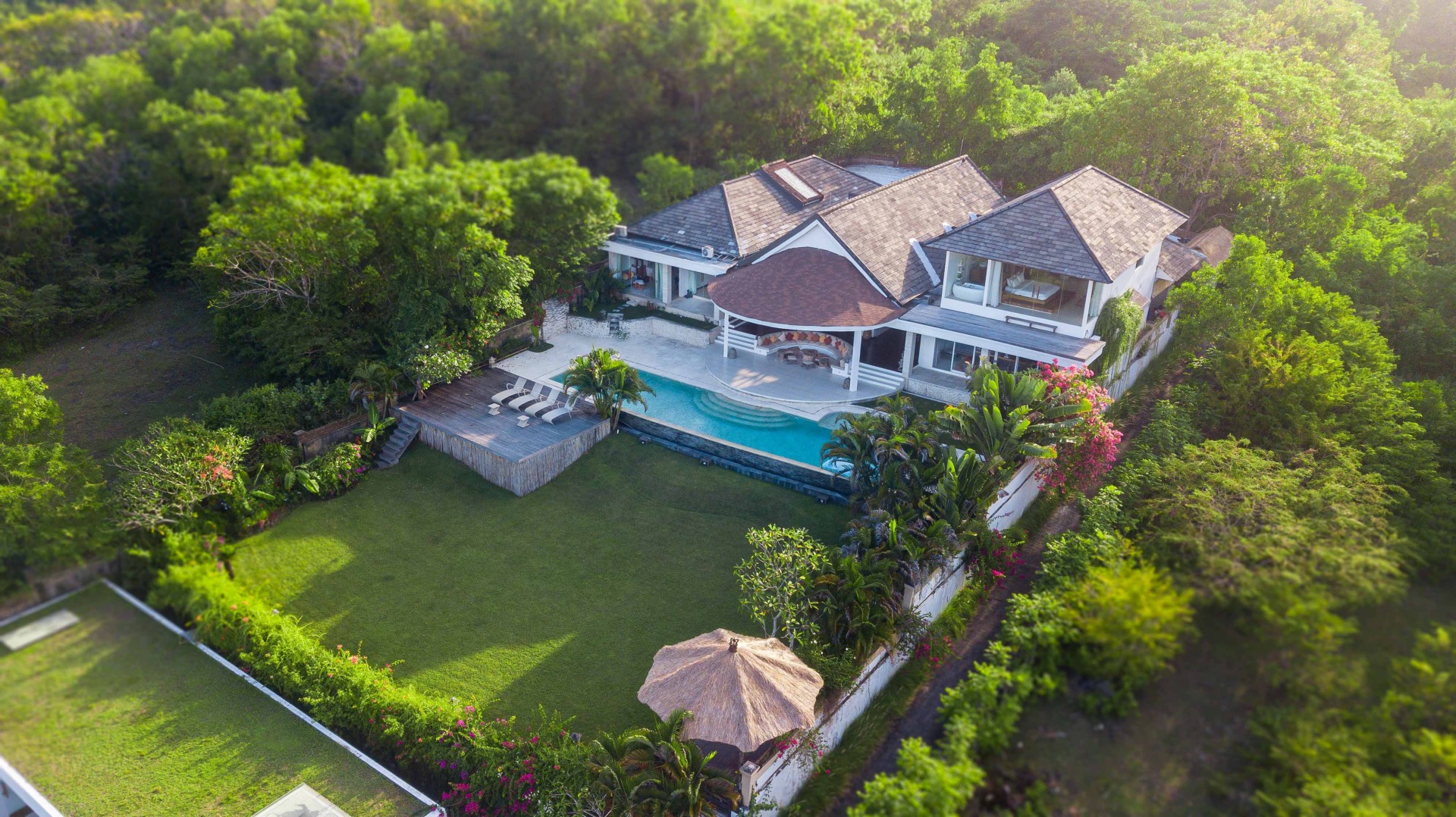 This impressive 4-bedroom villa with unobstructed ocean views sits on 1,700-square metres of freehold land in Nusa Dua near the Apurva Kempinski, Hilton, Mulia and the Ritz-Carlton.
Set behind private gates, this compound-like residence, features more than 700-square metres of living space, which includes 4 ocean-facing ensuite bedrooms, a gourmet kitchen with access to the dining area complete with huge wooden table and more incredible views, a spacious library with panoramic windows, an inspiring office space with excellent lighting, a loft/ master studio/ additional bedroom and a cozy living room with terrace.
Outside, you'll find a 20 x 4-metre infinity pool with sunbeds and gazebo set in lush tropical gardens and a courtyard with a large parking area. There's also a separate building for staff and a laundry room.
No expense has been spared in this refined custom estate with premium finishes throughout, including floors, stairs and furniture made from high quality wood and is a truly great opportunity to become the owner of a luxurious residence for your family in a prestigious area with a highly developed infrastructure and a 5-Star hotel lifestyle.
If you'd like more information or want to see the villa, get in touch with us today.
Find out More
Tips for Buying Property in Bali
Investing in Bali real estate can be a rewarding venture, but it's crucial to navigate the process carefully. Here are some valuable tips to consider when buying property in Bali:
Legal Guidance: Consult a trusted local lawyer who specializes in real estate to ensure the property you're interested in is legally secure.
Ownership Options: Understand the various ownership structures available to foreigners, like leasehold and freehold, and choose the one that fits your needs.
Thorough Research: Do thorough research on the property, checking for any outstanding debts, land disputes, or zoning regulations that could affect your investment.
Expert Assistance: Work with a reputable real estate agent with local knowledge and a strong track record in Bali.
Budget Wisely: Set a realistic budget that covers not only the purchase price but also taxes, legal fees, and ongoing maintenance costs.
Respect Local Culture: Show respect and appreciation for the local culture and customs when interacting with locals and communities.
Long-Term Planning: Consider your long-term goals for the property, whether it's a vacation home, rental income, or retirement, and plan accordingly.
Bali's hidden gems offer various opportunities for real estate investment, whether you're looking for a vacation getaway, rental income, or a permanent home. By carefully weighing your options and following these tips, you can make a successful and satisfying investment in Bali's thriving real estate market. Bali's natural beauty and warm hospitality truly offer a piece of paradise that can become your own.